OpenShift at Safe Swiss Cloud: Easy Software Deployment in the Cloud
---
More and more companies are using OpenShift to develop and deploy their cloud applications. It leverages the advantages of docker containers, manages scaling, and increases efficiency. Now available in the Safe Swiss Cloud.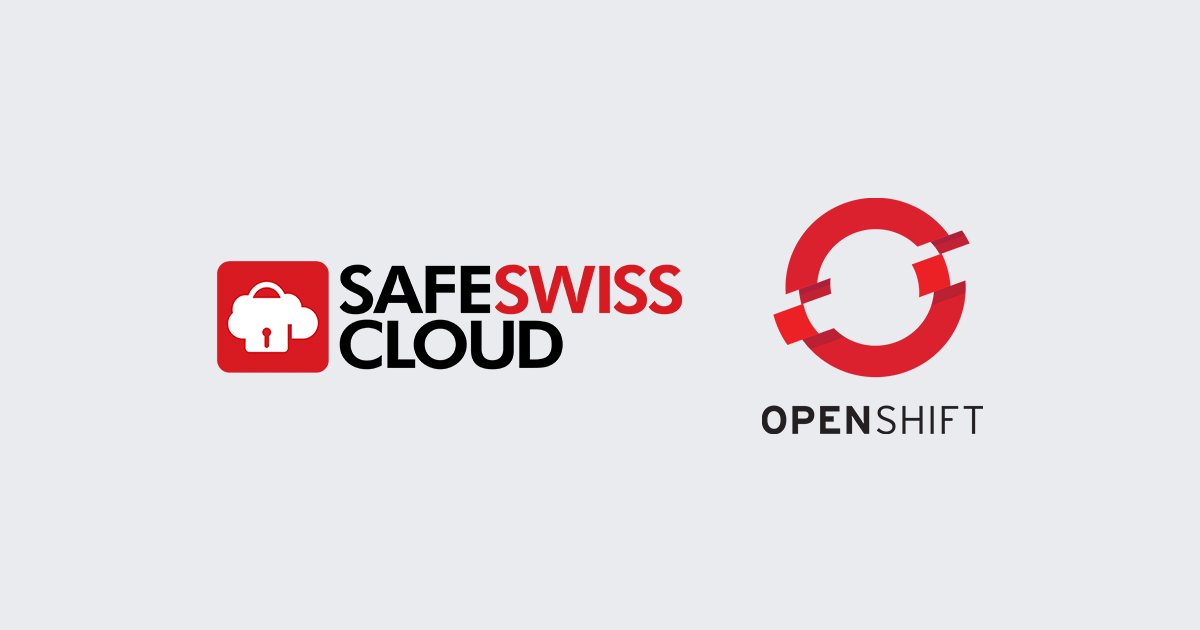 Immer mehr Unternehmen setzen für die Entwicklung und das Deployment ihrer Cloud-Anwendungen auf OpenShift. Es nutzt die Vorteile von Docker-Containern, managt die Skalierung und sorgt für mehr Effizienz. Jetzt auch in der Safe Swiss Cloud.
Wer heute Enterprise-Software managt, setzt dabei zusehends auf das Deployment mit so genannten Docker-Container. Die Gründe dafür liegen auf der Hand: Im Vergleich zu virtuellen Maschinen bieten Container eine viel leichtgewichtigere und standardisiertere Umgebung. Schon auf einer einzelnen Linux-Maschine lassen sich schnell viele Container starten – jeder Container beinhaltet einen Teil der Applikation, die mit den anderen Containern interagiert.
Weil mit dieser Technik verschiedene Aufgaben (Microservices) in separaten Containern verarbeitet werden können, bestehen weniger Abhängigkeiten zu anderen Software-Bestandteilen. Updates sind so auch während des laufenden Betriebs möglich, die Anzahl der Container kann jederzeit erhöht werden – egal ob es sich um 100 virtuelle Maschinen handelt oder mehrere tausend.
Skalierung war noch nie einfacher – und auch Ausfälle werden so vermieden: Bricht ein Server zusammen, laufen immer noch die anderen Docker-Container auf anderen VMs weiter.
So ist Docker eine optimale Plattform für das Deployment immer komplexerer Cloud-Anwendungen. Allerdings erfordert die Technik auch einiges an zusätzlichem Know-How von Entwicklern. Damit diese sich auf das Wesentliche – gute Software – konzentrieren können, hat Red Hat das Open Source Projekt OpenShift ins Leben gerufen.
Cloud-Deployment mit OpenShift – das Beste aus allen Welten
OpenShift ist eine Platform as a Service (PaaS), die in einer webbasierten Administrations-Oberfläche Docker und Kubernetes vereint, ein ursprünglich von Google entwickeltes System zum automatisierten Deployment von Containern. Es läuft auf Linux, Windows und auch anderen Betriebssystemen.
Das Service erlaubt zahlreiche hilfreiche Funktionen wie das Bereitstellen von Images mit nur einem Klick, Pipelines, integrierte Docker-Registrierung, bessere Benutzeroberflächen und auch die Automatisierung von Software-Entwicklung wie Continuous Integration und Continuous Deployment. Ihre Entwickler können so einfach nur das tun, was sie am besten können: das Programmieren
Diese Vorteile haben schon viele grosse PaaS-Unternehmem zu OpenShift konvertieren lassen – und auch bei Safe Swiss Cloud sind wir davon überzeugt, dass sich mit OpenShift die Vorteile von Deployment in der Cloud am besten nutzen lassen. Wir bieten als OpenShift-Partner mit unserer Enterprise Cloud-Infrastruktur …
die nötige Skalierbarkeit und Flexibilität, um das Potenzial einer auf Container basierenden Architektur ideal zu nutzen.
Zuverlässigkeit und Sicherheit für unternehmenskritische Anwendungen
Know-how für OpenShift und unternehmenskritische Software
Schweizer Standort, der alle Compliance-Anforderungen erfüllt.
Gerne stellen wir Ihnen schnell eine OpenShift Umgebung bereit, um Sie bei Ihrem Proof of Concept tatkräftig zu unterstützen.